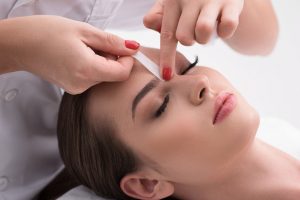 As any beauty blogger would tell you, sculpted eyebrows are essential to any polished style. There are currently more than 3 million posts on Instagram with the hashtag #brows and over 600,000 with #browsonfleek. Professional waxing services and the right waxing information can help you join the ranks of these style gurus. The following are just some of the most common questions that brow waxing customers ask about this popular technique.
Why are the benefits of eyebrow waxing?
There are plenty of reasons to choose eyebrow waxing over plucking. By having your brows professionally waxed, you can achieve a strong definition of your brow's natural shape. This simply makes the rest of your facial features look more defined. And of course, going to a professional minimizes the chance of error.
How often should I get my brows waxed?
It really depends on the thickness of your brows, but the general recommendation is about once per month. This will give your brow hair a chance to grow back in, and then you can schedule an appointment to wax them back off.
How can I keep my brows in check between waxing?
The best way to keep your brows clean between waxing sessions is to pluck the stray brows when they pop up. But be careful not to over-pluck. Avoid pulling hair out of the arch or within the brow, since this could misshape your entire brow. Just be sure to schedule your waxing appointment on time to truly enjoy the benefits of eyebrow waxing.
What if my brows are too thin and fair?
You can still come in for waxing to clean up your thin brows. If you want to make them appear thicker, you can have your brows tinted or invest in a brow pencil. Your waxer can show you how to properly fill in your brows to make them look natural.
What if I have specific health concerns?
Patients with certain conditions and who are taking certain medications may be better off to avoid waxing. This is because specific conditions and medications may thin the skin or make you more prone to infection. To know for sure, you should talk to your medical doctor and waxing specialist before making your appointment.
With so many benefits of eyebrow waxing, it is no wonder that beauty gurus everywhere are striving to perfect their brow shape. If you have any more questions about waxing procedures, be sure to visit our waxing salon for more information. The professionals at Sweet Waxology are here to help you look and feel your best.